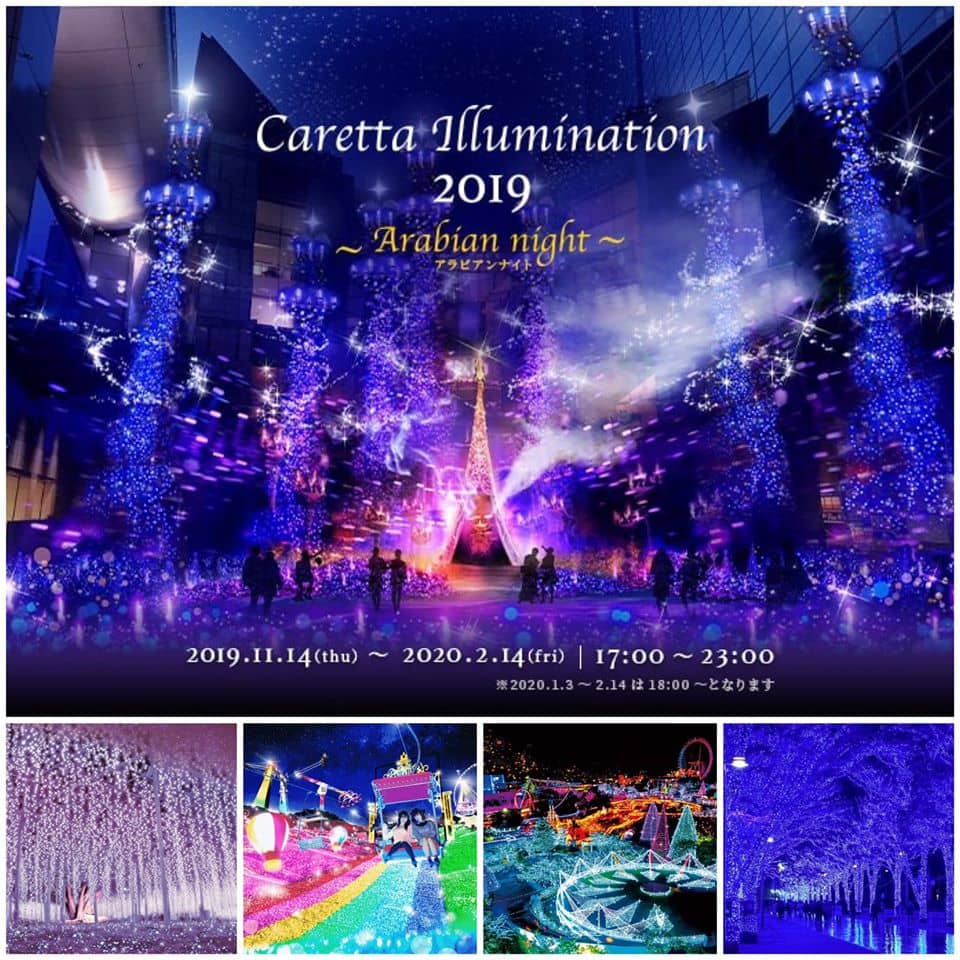 Top 5 places to see popular fire shows in Japan A beautiful light show that can only be seen during the cold season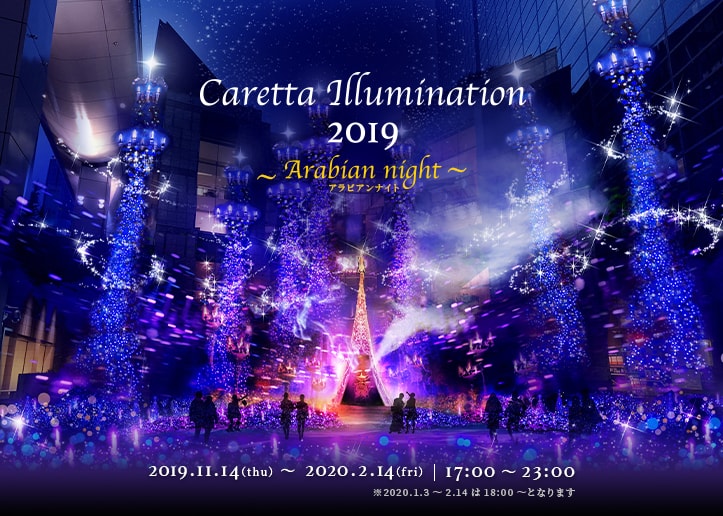 No. 5 Caretta Shiodome
Caretta Illumination is a place to display the lights that Disney Princess fans shouldn't miss. Here will be a lighting event with Disney music. Anyone who is a Disney disciple is like entering the fantasy world. Both background music Including beautiful lights Can say that very romantic
Work starts from14 Nov 2019 - 14 Feb 2020  โดยธีมงานของปีนี้จะเป็นธีมของ Aladin ภาพยนตร์จากดีสนีย์ โดยจะมีช่วงโชว์พิเศษโดยนำเพลง A whole new world เล่นสลับกับเพลง Speechless โดยโชว์จะมีทุก ๆ 15 นาที ช่วงเดือน พ.ย. – ธ.ค. 2019 ดูเวลาการแสดงได้ตามตารางด้านล่างนี้ค่ะ
A whole new world: 17.00, 17.15, 17.30, 17.45
Speechless: 18.00, 18.15, 18.30, 18.45
A whole new world: 19.00, 19.15, 19.30, 19.45
Speechless: 20.00, 20.15, 20.30, 20.45
A whole new world: 21.00, 21.15, 21.30, 21.45
A whole new world: 22.00
** For 3 Jan - 14 Feb 2020, lights will be shown from 6pm, stops on 1 - 2 Jan 2020.
travel
Get off the train at Shimbashi station and walk 600 meters further, taking 7 minutes.
Get off the train at Shiodome station and walk for 400 meters, then take 5 minutes
พิกัดจาก Google map: https://goo.gl/maps/cXaqNJ7kZEp
🌐 เว็บไซต์ : https://bit.ly/2JTpugq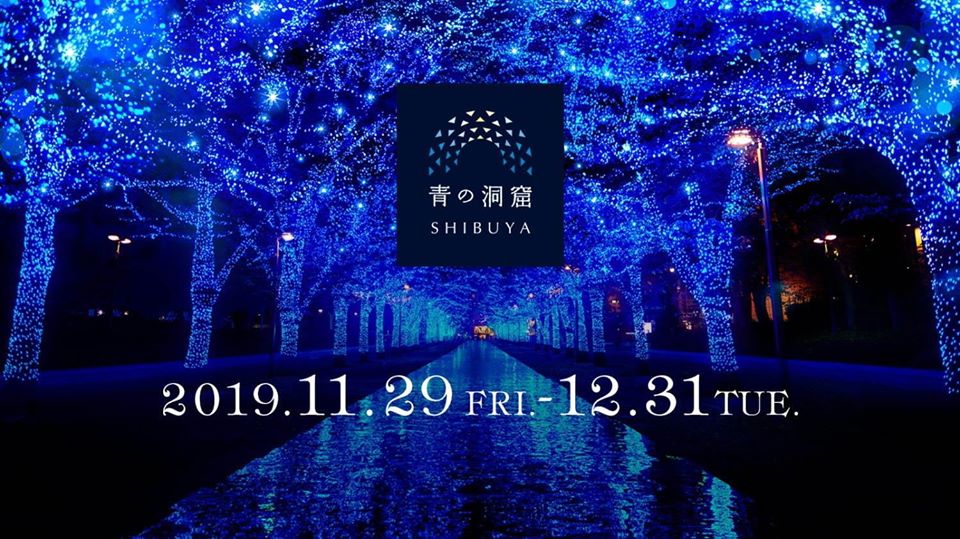 4.Blue Cave Shibuya
Another popular hot-selling illumination event in Tokyo More than 600,000 lights were used to decorate the Keyaki (ケ ヤ キ 並 木) Japanese sacred tree from Shibuya Park Street to Yoyoki Park for over 750 meters.
Lighting period: 29 Nov - 31 Dec 2019
เวลาเปิดไฟ : 17.00 น. – 22.00 น. (อาจจะมีการเปลี่ยนแปลงบางวัน), วันที่ 31 ธ.ค. 2019 จะเปิดไปจนถึง ตี 5 ของวันที่ 1 ม.ค.2020
.
Getting there: Get off the train at Shibuya station at the hachiko exit and follow the Google map.
พิกัดจาก Google map : https://goo.gl/maps/k7dmWJGuvPk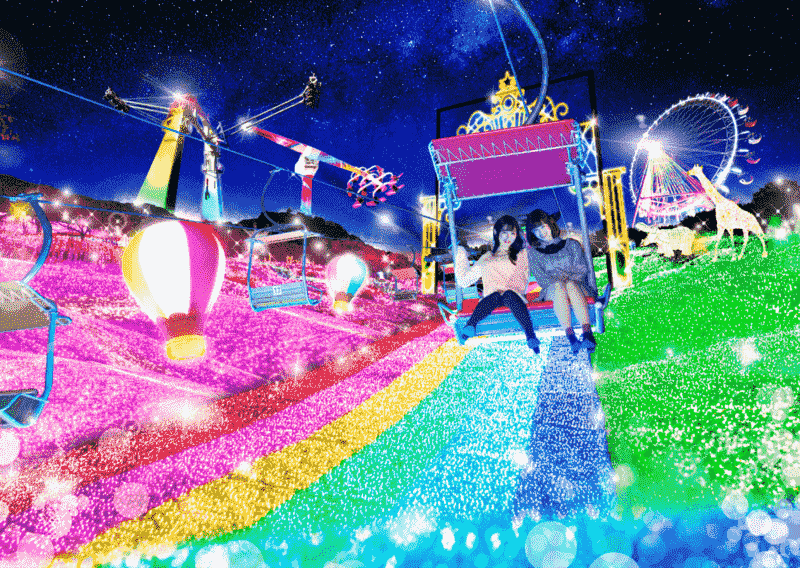 No. 3 Sagamiko Illumination
Sagamiko Illumination This event is held at the Sagamiko Resort Pleasure Forest. It is a large part of the fun which can be visited during the daytime. When evening fell, turned on the decorative lights. And here is one of the 3 places to see the largest fire show in the Kanto region.That the job willDecorated with over 6 million colorful lights. The event is divided into 10 zones, each zone has different themes.ซึ่งในปีนี้งานจะเริ่มตั้งแต่วันที่ 2 November 2019 จนถึงวันที่ 5 เมษายน 2020
Admission fee: Admission fee for Illumilion is 1,000 yen for adults and 700 yen for children (not including admission fees).
** Saturday, Sunday, and 1-3 January add 200 yen.
**บัตร Night free pass ผู้ใหญ่ 2,600 เยน เด็ก 2,000 เยน**
ตารางการจัดงาน: Until January, turn on the light at 17.00 hrs. / In February, turn on the light at 17.30 hrs. / In March, turn on the light at 18.00 hrs / April, turn on the light at 18.15 hrs.
เวลาทำการ: วันธรรมดา 16.00 – 21.00 น. / วันเสาร์-อาทิตย์และวันหยุด 16.00 – 21.30 น.
ตารางวันหยุด:  January 8/9/15/16/22/23/29/30 February 5/6/12/13/19/20/26/27 March 4/5/11 / 12
travel จากสถานี Shinjuku ขึ้นรถไฟด่วน สาย JR Chuo (มุ่งหน้าไปทาง Otsuki) วิ่งตรงมาลงที่สถานี Sagamiko ใช้เวลา 1 ชั่วโมง 10 นาที (บางขบวนอาจต้องเปลี่ยนที่สถานี Takao) From there, take the bus. (Headed for Mikagi) at sign # 1, get off at Pleasure Forest stop for 8 minutes
coordinates: https://goo.gl/sZaLJT  
🌐 เว็บไซต์ : SAGAMIKO ILLUMILION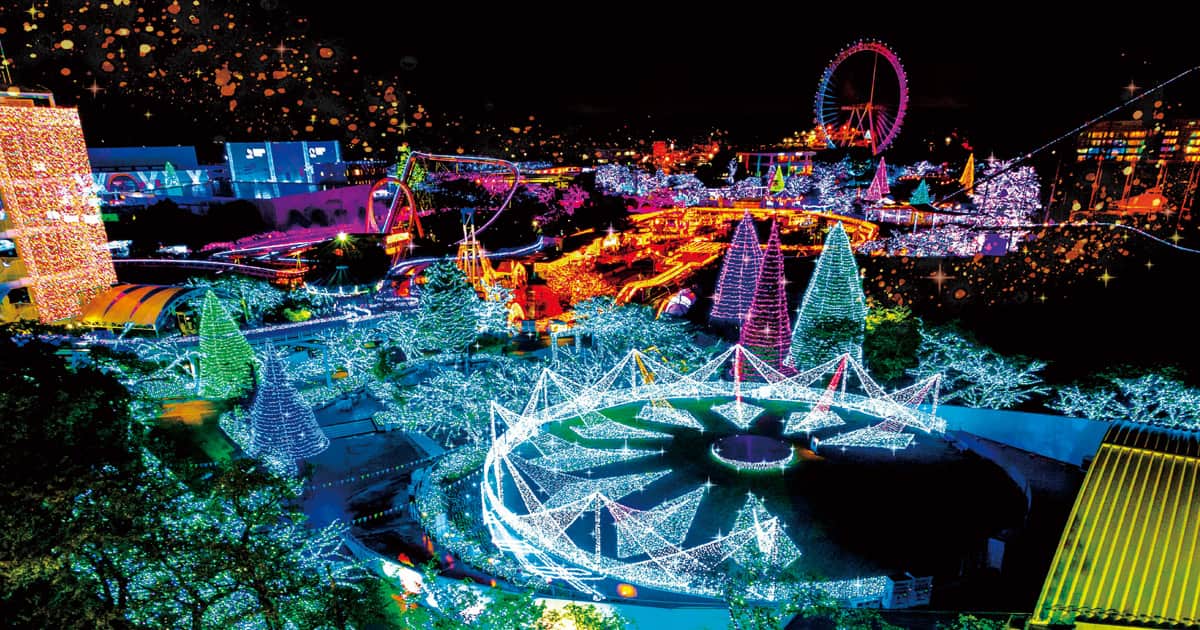 No. 2 yomiuriland jewellumination
The Yomiuri Land theme park has held a gem light show that can only be seen here in the world. Which was designed by Mr. Motoko Ishii, a world-renowned professional designer who can take care of creating the work. This year marks the 10 year anniversary. Mr. Ishii has chosen the world theme of the Greek mythology as the theme of the event. Which is the most decorated light than every time. There are up to 6 million and 500,000 lights under the theme name "Jewelry Olympus" in the 12 zones that are beautiful like a dream world. The show will start on24 Oct 2019 - 6 May 2020  Light on time: เริ่มตั้งแต่เวลา 16:00 – 20:30 น.
Holiday 1 Nov 2019, 20-23 Jan 2020, 4-6 Feb 2020, 10 Mar 2020
※ Weekdays 2 - 19 March, 6-24 April, 27, 28, 30 April, 1 May 2020. The theme park is open only during the daytime.
※ Normally open during the daytime
※ Open until 20:00 hrs.
※ After 16:00, change of activities for the night
Admission fees
Night pass (after 16:00 Hrs) : เด็กอายุ 3 ปี – ชั้นประถม ราคา 1,700 เยน มัธยม ราคา 1,700 เยน ผู้ใหญ่อายุ 18-64 ปี 2,500 เยน และผู้สูงอายุอายุ 65 ปีขึ้นไป 1,700 เยน
Only entrance fees (after 16:00 Hrs) : เด็กอายุ 6 ปี – 11ปี ราคา 500 เยน มัธยม ราคา 800 เยน ผู้ใหญ่อายุ 18-64 ปี 1,500 เยน และผู้สูงอายุอายุ 65 ปีขึ้นไป 500 เยน
travel
Take the Keio Sagamihara Line to get off at Keio Yomiuri-Land Station, then take the Odakyu Bus for about 5 minutes or the Gondola Ropeway for 5-10 minutes.
Take the Odakyu Odawara Line to get off at Yomiuri-Land mae Station, then take the Odakyu bus for about 10 minutes.
🌐 เว็บไซต์ : http://www.yomiuriland.com/english/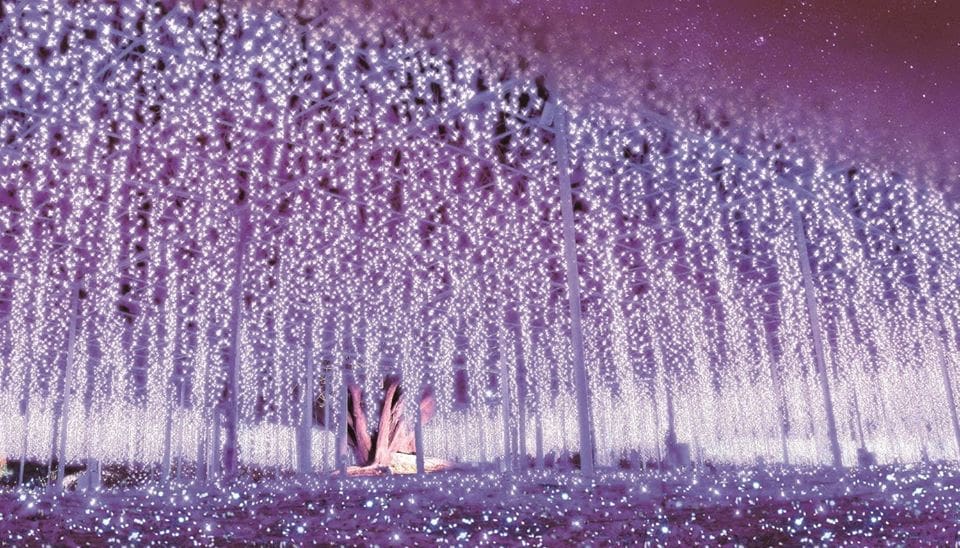 No. 1 Ashikaga Flower Park
Ashikaga Park is located in Tochigi Prefecture. This year's light show is the 18th light show, which in 2017 was chosen to be a light show. (Illuminatation) top three in Japan And also being ranked No.1 for four consecutive years from the ranking of lighting decorations (Illuminatation) that has been selected by a committee of experts in night landscape art. Also receiving a high level of evaluation The 94,000 square meter garden will be decorated with more than 5 million colorful lights, especially the Wisteria or Fuji flowers, which are the highlights of this garden. Was decorated with purple lights Very beautiful There are also other areas in the garden decorated with beautifully decorated lights such as the rose garden and castle zones, lotus ponds, Christmas trees surrounded by wisteria flowers. Illuminated wall decoration The series "all 4 seasons of Japan" etc. is very beautiful and romantic.
Fire display range:2 Nov 2019 - 6 Feb 2020
Light on time:16.30 hrs. - 21.00 hrs.. (Saturday-Sunday and holidays will turn on the lights until 9:30 pm)
Admission to the park: Adults 1,000 yen, Children 500 yen (from 4 years old - elementary school)
Holiday: 31 Dec 2019
Getting there: Take the JR Ryomo line to Ashikaga Flower Park station, then walk for 3 minutes.
🌐 เว็บไซต์ : https://www.ashikaga.co.jp/flowerfantasy_special2019/en/